VIDEOGIOCO by Donato Sansone from Enrico Ascoli – Sound Design on Vimeo.
If you were looking right at me right now, I would be mouthing the word 'wow'. Can't even imagine the planning that went into constructing and getting something like this done.
Chairman Ting – Bicycle wall art from carsonting on Vimeo.
All the things the ride with you are part of the imagatorium of your brain. Great way to decorate an apartment.
UPDATE: A little about Chairman Ting:
We love our obnoxious and silly name, however we don't have ginormous industrial factories around the world pumping out mass produced consumer products. We are in fact just a tiny (well, frankly speaking, just a dude and a dudette) experimental illustration workshop based in Vancouver, founded by Carson Ting and Denise Cheung. More here…
Via @meat99
These are all just so beautifully awesome. Missed Connections are fantastic enough, but adding this element of interpretation just takes it to the next level of yippee! Illustrations are by Sophie Blackall. Check out a whole bunch of them here.

Seeking girl who bit me TWICE last night while we were dancing
Via a meat99 tweet
Love these pages from Dan Moyer's sketchbook. Contemplating taking a crack at an exercise like this myself. Also liked his Everything I ate or drank> sketches too.
Via Austin Kleon
Four months of work here by mc bess and pal, Simon.
Via Zolty
The opening cinematic for this is very pretty. Go watch.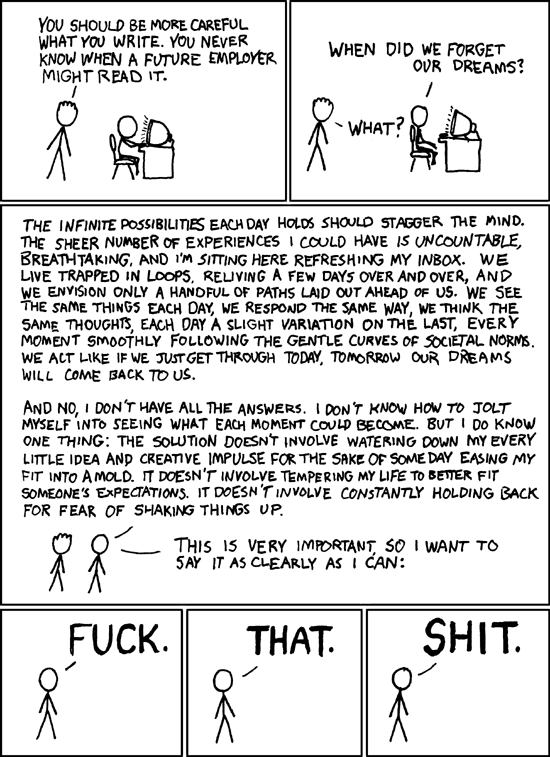 Just like when I read that the best way to catch swine flu was to watch CNN.
The Colouring from Dan Britt on Vimeo.
The Shining is creepy enough as it is, but "The Colouring" just freaked the bejubes and jelly beans outta me.
Lovingly and sweetly colored by Dan Britt and Joe Pelling, and as always, be sure to check out some of Dan's other work on Vimeo
Via Shape+Colour
Noteboek from Evelien Lohbeck on Vimeo.
Bit late to this one. But better late than never!
From Evelien Lohbeck. Check out some of her other works here
Via Rubbishcorp
Quimby The Mouse from This American Life on Vimeo.
Designed by cartoonist Chris Ware and animated by John Kuramoto. Yes, the same Chris Ware who did this. This was put together for the "This American Life – Live!" Spring event, which you can listen to here.
What's "This American Life – Live!"?
Ira Glass hosts an episode of the radio program, in front of a live audience…and records it for those who couldn't attend to hear. The show is performed onstage by some of our favorite contributors: Dan Savage, Starlee Kine, and Mike Birbiglia tell stories. Plus a very special appearance by Joss Whedon, creator of Buffy the Vampire Slayer!
Via Drawn!

Slagsmålsklubben – Sponsored by destiny from Tomas Nilsson on Vimeo.
Love. The story of Little Red Riding hood done in infographics. Nice work, Tomas Nilsson
Process is porn. (And that screen press rig is fairly sexy too.)
Stanley Donwood has created all of Radiohead's album and poster art since 1994. I get my fact(ions) from Wikipedia.
Via Austin Kleon